Hofmann Megaplan Blog
Welcome to the Hofmann Megaplan blog. Check back regularly for news, product launches and events.
Another Boss For Black Boots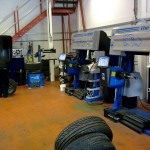 Prestigious tyre shop Black Boots, based in Chesham, Bucks, have purchased another megamount Boss to cope with the increasing workload as the business grow from strength to strength. I can' think of many, in fact I cant think of any, tyre shops in the UK running two leverless machines, but if you saw the queues of top marque vehicles queuing outside on a Saturday morning you'd understand why! They also upgraded their 501 conventional tyre changer with a megafit 2 arm. Congrats to Jason and the team on doing a fantastic job over the last year or so....
Related Posts
By accepting you will be accessing a service provided by a third-party external to https://www.hofmann-megaplan.co.uk/