Hofmann Megaplan Blog
Welcome to the Hofmann Megaplan blog. Check back regularly for news, product launches and events.
Another One Hits The Road....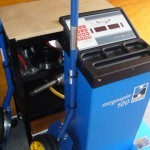 Here are a few pics of another mobile tyre fitting van kitted out at our fitting centre, complete with megamount 401 Racing Tyre Changer with 26" clamping and megaspin 100 balancer, both operated by a 12v battery. This particular one is for an independent but the workshop was awash with Honda engines and receivers, awaiting the delivery of 92 fitting & balancing machines for a large customer we have (more will be revealed when we are officially allowed to talk about it!). This is a prime example of how we do a professional fitting service and not just stick a couple of machines in a van.
The pics show how we have fitted accessories such as hand towel dispenser, LED lighting, sockets for laptop and credit card machine, wheel weight storage etc, and we have made proper storage for jacks, bead seater, tools etc. We are seeing more and  more people come to us for a complete service rather than just buy the machines and fit them themselves. Two new vans for Event Mobile also turned up while I was there, poor old Graham isn't going to get a break this Easter!
Related Posts
By accepting you will be accessing a service provided by a third-party external to https://www.hofmann-megaplan.co.uk/