Hofmann Megaplan Blog
Welcome to the Hofmann Megaplan blog. Check back regularly for news, product launches and events.
Another Satisfied Customer!!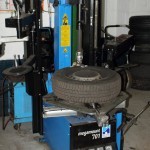 Considering how human nature seems to dictate that people can be very quick to criticize, but often slow to complain, it is flattering just how many calls and emails we receive complimenting us on both our service and our products.
This week alone, we received 3 emails from customers and around 7 or 8 phone calls to say how impressed they were with Hofmann Megaplan.
Scott Kirby of
Car Repairs Leeds
 took the trouble to write in to us to say that the service he had received since he ordered his megamount 701XL tyre changer (pictured in his workshop) had been the best he had ever received from a garage equipment supplier. Although he was impressed with the buying and installation experience, he stated that the
"service and advice received since purchasing the machine has been both personable and professional at all times"
.  Another customer, M D Saunders of Suffolk, had previously never been in tyres before and, whilst a plethora of other suppliers had quoted for equipment, none
"had shown the patience and guidance"
that he received from all members of the team he came into contact with.
It is this kind of feedback that makes it all worthwhile, and we always make a point of forwarding on these compliments to our field service team who are, ultimately, the face of Hofmann Megaplan and responsible for the majority of the praise we receive.
Well done Chaps!
Related Posts
By accepting you will be accessing a service provided by a third-party external to https://www.hofmann-megaplan.co.uk/