Hofmann Megaplan Blog
Welcome to the Hofmann Megaplan blog. Check back regularly for news, product launches and events.
Autowerks (Slough)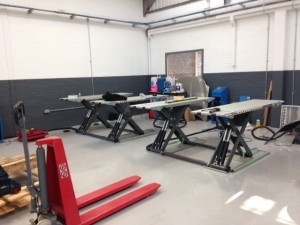 Autowerks in Slough add to their Hofmann-megaplan equipment by having 2x s255 1PH wheel service lifts installed. Ideal for fast-fit use, raising the vehicle at the touch of a button to a comfortable working height for removing the wheels. Available in 1ph or 3ph, our famous twin-cylinder design, premium quality engineering and galvanised platforms set this apart from low-priced, poor quality alternatives. Manufactured in Spain to the highest standards of legislation, the S255 has become the benchmark for professional tyre shops throughout Europe.  
https://www.hofmann-megaplan.co.uk/products/vehicle-lifts/tyre-service-lift.html
To read more about the range of Hofmann Megaplan vehicle lifts, see our main company website
https://www.hofmann-megaplan.co.uk
Or call our dedicated team on
01480 8-9-10-11
.
Related Posts
By accepting you will be accessing a service provided by a third-party external to https://www.hofmann-megaplan.co.uk/