Hofmann Megaplan Blog
Welcome to the Hofmann Megaplan blog. Check back regularly for news, product launches and events.
Brand New 'Elite' line from Cascos + Cascos wins award for outstanding service!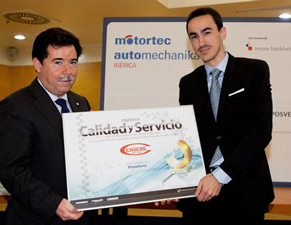 In a day and age where most manufacturers are looking to reduce manufacturing costs in order to compete with China, Cascos Vehicle Lifts has continued to focus on the more traditional customer who places quality and longevity as the most important assets.
"It's a well-recognised fact that, although you may pay more for a Cascos lift than a cheap alternative from the Far East, the Cascos will be by far the cheaper buy in the long term, simply because of the length of life and cost of ownership along the way" comments James Boon, EVP of Garage Equipment. "We still get calls to service Cascos lifts that are 30 years old, which is testament to the build quality. It completely justifies the initial outlay."
Cascos has recently carried out an audit of all their materials and component suppliers in order to ensure full traceability of their origin and quality. As a result, the company can have absolute faith in the product they supply and this has resulted in the ability to support a class-leading 5-year warranty. The line has also benefitted from a 'facelift' that includes the new universally accepted graphite colour scheme.
What's more, Cascos Lifts is proud to have won the prestigious 2011 award for Oustanding Quality and Aftersales Support.

Presented at the globally-represented Motortec exhibition in Madrid, the award signifies the huge emphasis Cascos Car Lifts place on quality and service support, as well as sending out a message that there is still room for a family-owned, Europe-based, quality-driven lift manufacturer in a day and age where mass production in China seems to be the trend.
Pictured above is Sales Director, Carlos Cascos, being presented with the award by a representative of the Automechanika exhibition team.
Related Posts
By accepting you will be accessing a service provided by a third-party external to https://www.hofmann-megaplan.co.uk/