Hofmann Megaplan Blog
Welcome to the Hofmann Megaplan blog. Check back regularly for news, product launches and events.
Brand New Vans - Same Old Service!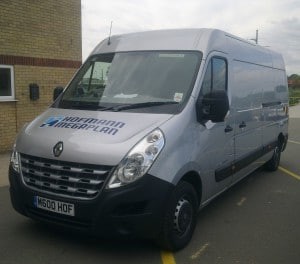 We have just taken delivery of the first of our new shape Renault Master vans, which will ultimately replace the current fleet of Masters.
The new model (pictured above) provides us with even greater flexibility due to the increased side door access and load capacity, and the swanky interior complete with all mod cons is just reward for our engineers, who spend a good proportion of their lives behind the wheel in an effort to maintain our reputation as the most responsive and flexible equipment provider in the industry
The new fleet will be equipped as per the exisiting line-up (pictured bottom) complete with remote controlled tail lift and pallet trucks, and will be fully equipped with bespoke storage facility for spares and tools, installed courtesy of our partner company Reading Pneumatic Services.
Meanwhile, there is nothing new about our service, as we continue to to exceed expectations amongst the industry. This week alone we have met no less than 8 'distress' orders with equipment being installed within a few hours of ordering. Of particular note was our service to Save On Tyres in Torquay who, having ordered their megamount 502 Racing at 4.30 in the afternoon, took delivery at 8.30am the following morning - our dedicated engineer Kenny staying late to assemble and PDI, then leave at 4am to get to Save On Tyres as they opened the doors! Add to this VJ Collet of Gloucestershire (same day service), Teesdale Tyres of Thornaby (same day service), Dorset Police (14 hours from order to install) and a whole host of other customers who continue to heap praise on our refreshing response times, and here you have another example of why we are the UK's favourite tyre equipment supplier!
In contrast (and I have to mention this because it really makes me smile), I have received two irate calls from a garage equipment distributor this month confusing us with one of our competitors, and 'chasing us' on delivery of equipment they had ordered weeks earlier - but clearly not from us. This statistic means that we officially receive more calls in error regarding late deliveries of somebody else's equipment, than we actually receive for our own - because we genuinely don't get any!!
Whilst I'd like to take all of the praise for our (sometimes miraculous) service, I have to give credit to our internal PDI team, our internal co-ordinators, and our external Installation & Training team who work together to ensure we do whatever is humanly possible to meet our customers demands. If anybody deserves new vans.....:)
Related Posts
By accepting you will be accessing a service provided by a third-party external to https://www.hofmann-megaplan.co.uk/