Hofmann Megaplan Blog
Welcome to the Hofmann Megaplan blog. Check back regularly for news, product launches and events.
Brityrex 2014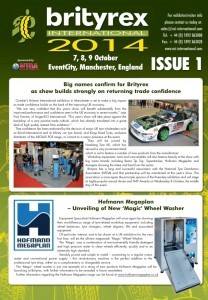 This October will see the return of the bi-annual 'Brityrex' Exhibition - the only dedicated exhibition for the UK Tyre Industry.
As always, Hofmann Megaplan will be present with a selection from our range, which this year will include tyre changers, balancers, lifts, wheel alignment, and some exciting new products such as the 'Magic' Wheel Washer.
Brityrex will run from 7,8 and 9 October at Event City in Manchester. Access and parking is easy, and anybody who has a toe in the tyre industry should be attending, if only to come and see Hofmann Megaplan!
We hope to see you there... :)
Related Posts
By accepting you will be accessing a service provided by a third-party external to https://www.hofmann-megaplan.co.uk/