Hofmann Megaplan Blog
Welcome to the Hofmann Megaplan blog. Check back regularly for news, product launches and events.
Cascos Lifts - Celebrating 50 Years!!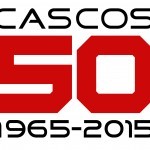 How often do you hear people say "They don't make them like they used to"??
Well in our industry we hear it all the time, especially about lifts and, in general, they'd be right too!
However, Cascos actually do make lifts like they used to, because Cascos still use the same design principle and specification that was employed when they made their first 2 post lift back in the 60's.
This year, the company celebrates their 50th anniversary, so we thought we'd give you a brief history and highlight some of the landmarks along the way. This timeline should be all the confidence and security you need to confirm Cascos is the right choice when buying (or selling) a lift :)
1965
– Carlos Alvarez-Cascos Snr used the contacts and knowledge he had gained working at the Volkswagen factory in Germany and Mercedes-Benz factory in Spain to start selling, amongst other products, a range of in-ground lifts for trucks
1968
– The first 1500m2 of office and production facilities were established to develop the first series of 2 post lifts and tyre changers, which were predominantly destined for the German market. It was this early partnership and experience with the German market that led to Cascos' affinity with traditional build quality and design associated with German-made lifts
1970
– Started manufacturing the first mobile lifts, known as MONZA
1980
– Started designing and manufacturing lubrication equipment
1985
– Launched the first models of 4 Post lift
1988
– Launched the first Parallelogram lifts
1989
– Expanded the production facility with an additional 4000m2
1990
– Launched the first range of Parking lifts
1996
– Launched the first range of full-height scissor lifts
1
999
– Awarded ISO 9001 for design and manufacturing of lifts
2001
– Expanded into new facilities with more than 6500m2
2002
– Launched the first range of wheel alignment scissor lifts
2003
– Attained certifications from Renault, Peugeot, Citroen and Nissan
2004
– Received largest order in Cascos history, for 560 4 Post Lifts fitted with play detectors for
Japanese equivalent of MOT
2011
– Received award for Aftersales from Spanish magazine 'Our Workshops'
Related Posts
By accepting you will be accessing a service provided by a third-party external to https://www.hofmann-megaplan.co.uk/