Hofmann Megaplan Blog
Welcome to the Hofmann Megaplan blog. Check back regularly for news, product launches and events.
Changing Tyres is a Serious Business - Bullet proof in Baghdad....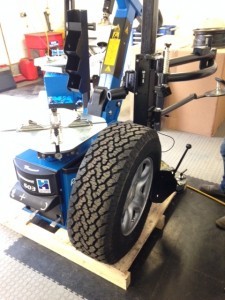 When you get a phone call from from the Middle East asking you about your expertise in bulletproof tyres, the word 'surreal' springs to mind. The next step was to head 'google' to find out just what a bullet proof tyre involves. A number of phone calls and picture exchanges later, a sample arrived at Hofmann HQ for us to apply our years of experience.

As it turns out the call was from a the embassy of Baghdad who needed Hofmann-Megaplan's equipment to help change their tyres on their armoured vehicles. The specialty tyres are fitted with a run flat insert... much bigger than you'd find on your average BMW, but that will allow the vehicle to make a swift exit, even if they are damaged by tyre trauma like gunfire.




The changing technique however was similar to that of a BMW run-flat tyre change, with a very shallow bead break. The megamount 603 is great all round machine favoured by a number of different dealerships and suited this application perfectly


Complete insert which sits on the rim to allow the vehicle to escape



The insert is mounted in sections
Related Posts
By accepting you will be accessing a service provided by a third-party external to https://www.hofmann-megaplan.co.uk/