Hofmann Megaplan Blog
Welcome to the Hofmann Megaplan blog. Check back regularly for news, product launches and events.
Christmas Period: Business As Usual...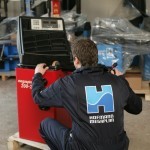 Please be advised that it will be business as usual over the Christmas period.
Whilst our offices are officially closed, all messages will be checked on an hourly basis and installations and service calls will be handled as usual.
Related Posts
By accepting you will be accessing a service provided by a third-party external to https://www.hofmann-megaplan.co.uk/