Hofmann Megaplan Blog
Welcome to the Hofmann Megaplan blog. Check back regularly for news, product launches and events.
Classic Or Contemporary - We Have The Answer!!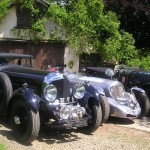 Bob Peterson Engineering, renowned worldwide for the loving and immaculate restoration of vintage Bentley's, has installed a tyre changer and balancer package from Hofmann Megaplan to cater for classic rim and tyre combinations.
With a strict criteria and very particular requirement, Bob contacted a large number of tyre equipment suppliers, most of which lost interest when they realised it was slightly leftfield in terms of the application. Needing to handle rims that cost literally tens of thousands of pounds, it was ascertained over the 'phone that the rims needed clamping in a very particular fashion, and the balancing procedure would require additional adaptation. Despite not having any firm guarantee, we were convinced we would be able to assist and set off with a tyre changer and balancer equipped with some specific adaptors in an effort to prove that we could meet Bob's requirements.
Needless to say we achieved just that and Peterson's are now able to handle these classic rims in complete safety.
This installation was a refreshing break from the norm' as we spend most of our time solving the problems created by modern rim and tyre assemblies such as convex alloys, EH rims, run-flat tyres and generally stiff, low profile tyres fitted to large alloy rims.
Bob Petersons story is not unusual though, in as much we do generally seem to be seen by the industry as the experts on anything tyre fitting and removal or balancing related. Despite the standard configurations shown on our website and in our catalogue, we can ultimately provide a machine to suit pretty much any customer or application. More recently we supplied a batch of fully automatic machines in red, with modified columns and bead breakers, to satisfy the request of a customer who liked the machines he had previously used from another manufacturer, but didn't like the company that sold them to him!
Anything is do-able if you can be bothered, and we are always bothered when it comes to tyre equipment!
Further information on Bob Peterson Engineering and their fantastic services can be seen at 
www.bobpetersenengineering.co.uk
Related Posts
By accepting you will be accessing a service provided by a third-party external to https://www.hofmann-megaplan.co.uk/