Hofmann Megaplan Blog
Welcome to the Hofmann Megaplan blog. Check back regularly for news, product launches and events.
Costco Coventry Fully Equipped...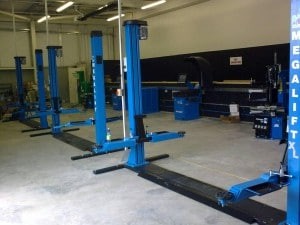 Costco Wholesale's brand new Coventry warehouse is well under way to completion, and represents another Hofmann Megaplan equipped tyre bay for the International wholesale chain.
This latest addition to their UK network boasts the very best level of equipment, including lever-less tyre changers, touch-free, super automatic wheel balancers, and premium quality 2 post lifts - including the brand new megalift 'XL'.
The 'XL' has been designed to cater for those customers who want a totally universal lift, of a guaranteed 'traditional' build quality, and for those customers where quite simply 'only the best will do'. The Spanish manufactured lift, which uses ultra high strength columns made in Germany, incorporates triple telescopic arms to enable complete vehicle coverage from short to long wheelbase 'picking point' positions, ultra low profile pad height with built-in high reach capability, and a 3.5 tonne lifting capacity.
Four Hofmann Megaplan engineers and four customised Hofmann Megaplan vans (pictured below) ensured a painless, swift and efficient installation over 2 days.
Related Posts
By accepting you will be accessing a service provided by a third-party external to https://www.hofmann-megaplan.co.uk/