Hofmann Megaplan Blog
Welcome to the Hofmann Megaplan blog. Check back regularly for news, product launches and events.
Customers Take Advantage of Ex-Show Offers!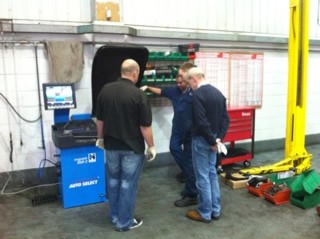 Kingshurst Automotive of Birmingham were just one of the sensible visitors to Brityrex 2010 to take advantage of the keenly priced ex-demonstration machines straight off the stand!
The top of the range megaspin 800-2P Super Automatic Wheel Balancer was installed en-route back from the show, (pictured being installed today) with all 3 tyre changers, the other two balancers, and the megalift 3200 two post lift also going to new homes early next week.
This means we still have a 'Junior' balancer available at a rock bottom 'ex-demo' price on a first come, first served basis, so give us a call if you are in the market for a low priced balancer!
Overall, and compared to previous years, I would have to say the show was disappointing from a visitor attendance point of view. But, as always, we had a good time, enjoyed seeing lots of our customers again, picked up some exciting new prospects and managed to sell most of what we had on the stand - so I don't think we can complain too much.
There was also a hilarious moment in an Indian restaurant that was probably the highlight of our week, but I think we'll keep that story 'in-house'....!
Coming up... Find out who won the megamount Smart in our 'Win a Tyre Changer' draw...!
Related Posts
By accepting you will be accessing a service provided by a third-party external to https://www.hofmann-megaplan.co.uk/