Hofmann Megaplan Blog
Welcome to the Hofmann Megaplan blog. Check back regularly for news, product launches and events.
Feel Illuminated by Alignment - The Garage (Blackpool)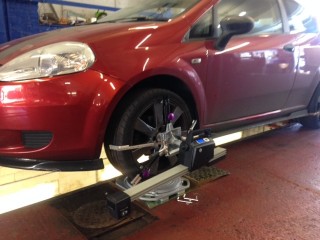 The Garage Blackpool
 by their own admission:
"are dedicated to providing superior value in all parts installed and services performed.  Quality and our desire for excellence are at the heart of this commitment. We use advanced technology and the quality products we offer create a positive car care experience."
With that in mind, adding alignment to their list of services seemed to be the natural step. Once installed and the training complete on their Hofamnn Megaplan Ecoline 88 system, the 'The Garage Blackpoool' were then able to provide their customers with a service that gives an accurate reading of a vehicle's wheel geometry and solve any issues caused by misalignment.
The Ecoline 88
is a CCD system (Close Coupled Device) and a popular mobile system, consisting of sensors mounted to each wheel. CCD aligner communicates with a PC via Bluetooth and compares the results to a database. The results are easy to see and once the alignment is complete a print off the data can be produced for you customers benefit. They require little specialist knowledge from the workshop as the interaction with the PC talks the technician through the process.
Pros:
More accurate than lasers
Less alignment knowledge is required for the technician than laser
Mobile so you can switch bays with a single aligner
Customer service is key for The Garage Blackpool;
"We strive to develop long-term relationships with customers, to provide the best customer service and the most appropriate solutions for your auto care needs. In addition, we always try to answer your questions and explain our work to you so you feel comfortable every step of the way."
Customer feedback is key to maintaining their trust and communicating your work. A print out provided after every alignment on the Ecoline 88 provides a helpful colour coded adjustment charts instantly show the problem areas, and where the adjustments were made.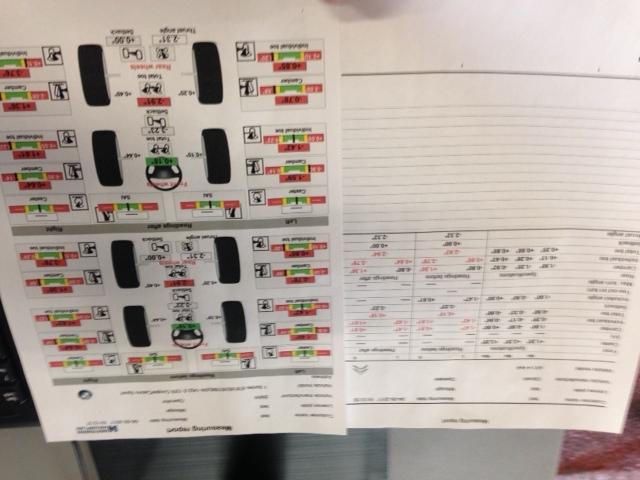 To get you car's wheel geometry checked in the Blackpool area contact The Garage Balckpool for more information about their services. Their experienced customer service team can help you find just what you need and can advise you on the additional options.
98/100 Dickson Road, Blackpool, Lancashire FY1 2BU
T:01253 620180/2
E::
This email address is being protected from spambots. You need JavaScript enabled to view it.
https://www.thegarageblackpool.co.uk/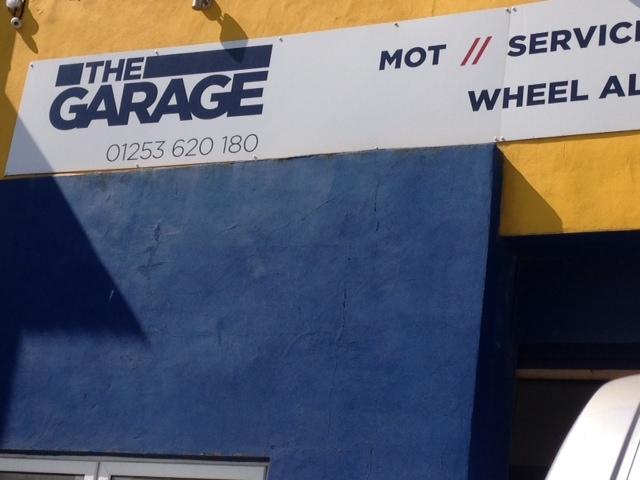 To find out more about how Hofmann Megaplan can help your domestic and commercial vehicle operation, visit the 
main Hofmann company website
or to arrange a demo please contact our team on
01480 89-10-11
Related Posts
{ "@context": "http://schema.org", "mainEntityOfPage": "https://www.hofmann-megaplan.co.uk/blog/feel-illuminated-by-alignment-the-garage-blackpool", "@type": ["BlogPosting", "Organization"], "name": "Hofmann Megaplan", "headline": "Feel Illuminated by Alignment - The Garage (Blackpool)", "image": "https://www.hofmann-megaplan.co.uk/images/easyblog_images/786/b2ap3_small_image_20190117-194152_1.jpg", "editor": "Guest", "genre": "Wheel Aligners", "wordcount": "468", "publisher": { "@type": "Organization", "name": "Hofmann Megaplan", "logo": {"@type":"ImageObject","url":"https:\/\/www.hofmann-megaplan.co.uk\/media\/com_easyblog\/images\/schema\/logo.png","width":60,"height":60} }, "datePublished": "2019-01-17", "dateCreated": "2017-05-15", "dateModified": "2019-01-17", "description": "Hofmann Megaplan suppliers of premium tyre changers, wheel balancers, wheel aligners, lifts and garage equipment", "articleBody": "&nbsp;<br /> <a href="https://www.thegarageblackpool.co.uk/">The Garage Blackpool</a> by their own admission:<br /> <blockquote>"are dedicated to providing superior value in all parts installed and services performed. Quality and our desire for excellence are at the heart of this commitment. We use advanced technology and the quality products we offer create a positive car care experience."</blockquote>With that in mind, adding alignment to their list of services seemed to be the natural step. Once installed and the training complete on their Hofamnn Megaplan Ecoline 88 system, the 'The Garage Blackpoool' were then able to provide their customers with a service that gives an accurate reading of a vehicle's wheel geometry and solve any issues caused by misalignment.<br /> <br /> <a href="https://www.hofmann-megaplan.co.uk/products/wheelaligners/ecoline-58.html">The Ecoline 88</a> is a CCD system (Close Coupled Device) and a popular mobile system, consisting of sensors mounted to each wheel. CCD aligner communicates with a PC via Bluetooth and compares the results to a database. The results are easy to see and once the alignment is complete a print off the data can be produced for you customers benefit. They require little specialist knowledge from the workshop as the interaction with the PC talks the technician through the process.<br /> <br /> Pros:<br /> <ul> <li>More accurate than lasers</li> <li>Less alignment knowledge is required for the technician than laser</li> <li>Mobile so you can switch bays with a single aligner</li></ul><br /> <br /> &nbsp;<br /> Customer service is key for The Garage Blackpool;<br /> <blockquote>"We strive to develop long-term relationships with customers, to provide the best customer service and the most appropriate solutions for your auto care needs. In addition, we always try to answer your questions and explain our work to you so you feel comfortable every step of the way."</blockquote>Customer feedback is key to maintaining their trust and communicating your work. A print out provided after every alignment on the Ecoline 88 provides a helpful colour coded adjustment charts instantly show the problem areas, and where the adjustments were made.<br /> <br /> <img class="aligncenter" src="https://www.hofmann-megaplan.co.uk/images/hmblog_images/2017/05/image3-1.jpg" alt="" width="640" height="480" /><br /> <br /> To get you car's wheel geometry checked in the Blackpool area contact The Garage Balckpool for more information about their services. Their experienced customer service team can help you find just what you need and can advise you on the additional options.<br /> <br /> 98/100 Dickson Road, Blackpool, Lancashire FY1 2BU<br /> <br /> T:01253 620180/2<br /> <br /> E::
This email address is being protected from spambots. You need JavaScript enabled to view it.
<br /> <br /> https://www.thegarageblackpool.co.uk/<br /> <img class="aligncenter" src="https://www.hofmann-megaplan.co.uk/images/hmblog_images/2017/05/image1-1.jpg" alt="" width="640" height="480" /><br /> <br /> &nbsp;<br /> To find out more about how Hofmann Megaplan can help your domestic and commercial vehicle operation, visit the <a title="visit the Hofmann Megaplan website to see more information about our full range of Tyre Changing Equipment" href="https://www.hofmann-megaplan.co.uk/products/tyrechangerspremium.html">main Hofmann company website</a> or to arrange a demo please contact our team on <strong>01480 89-10-11</strong>", "author": { "@type": "Person", "name": "Guest", "image": "https://www.hofmann-megaplan.co.uk/components/com_easyblog/assets/images/default_blogger.png" } }
By accepting you will be accessing a service provided by a third-party external to https://www.hofmann-megaplan.co.uk/