Hofmann Megaplan Blog
Welcome to the Hofmann Megaplan blog. Check back regularly for news, product launches and events.
Hofmann Megaplan at Brityrex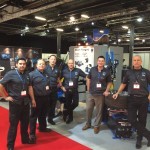 Last week saw the industry's only dedicated exhibition take place at Event City in Manchester, and we took the opportunity to use the show as a launch pad for our brand-new 'megaspin' balancer range.
The all-new megaspin 120, 420, 820 and 1200P models were on display and fully operational, with orders being taken for the very first arrivals due in later this month.
The star of the show was undoubtedly the megaspin 420. The level of technology this machine offers, combined with the incredible new red & while LED display, means this has to be the best value balancer on the market today.
The new megaspin 420, 820 and 1200 are the Worlds first balancers ever to not require a checkspin. Two laser spots and automatic locking of the rim into position (which is now 6 O'clock rather than the traditional 12 O'clock) means that there is simply no possibility of error. These new models are undoubtedly the fastest and easiest the industry has ever seen.
Watch out for the new product videos on our website...
Related Posts
By accepting you will be accessing a service provided by a third-party external to https://www.hofmann-megaplan.co.uk/