Hofmann Megaplan Blog
Welcome to the Hofmann Megaplan blog. Check back regularly for news, product launches and events.
Hofmann Megaplan Expand The Team...And Other General Ramblings!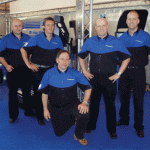 Our unbelievable start to 2010 looks set to continue, with a record month in Feb looking like it could be bettered in March, and so we've had to increased our capability with some new faces - and a couple of familiar ones too! Ricky Clarey and Lee Parrott have joined the installation and maintainence team, and Stuart Corley and Tim Coley have made a return to the fold. Both Lee and Ricky are doing great and have picked it all up really well, and are giving 'old hands' Tim and Stu a run for their money! Meanwhile, Mark Berryman has joined us as Operations Director, taking responsibility for...well,  pretty much everything actually, I'm just not seeing enough of my beautiful gaf in Spain you see! I've wanted Mark on board for years, and now we've finally got him. We are already working together on our new Service website, and Mark and Mick (now promoted to Technical Director) have sorted out the spares situation good and proper, with computer logged bin locations and everything, we are going to be super slick. I could happily Chinese burn previous employees who were supposedly responsible for it - "p*** up, brewery, and unable to organise" are words that spring to mind! But thats all behind us now, and we have brought in some real team players to complement the rest of our team and help maintain the fantastic relationship we have with our customers. Outside of our blissfully organised and exciting world, I'm hearing stories of some sharp suited fool at one of our competitors who is telling anyone that will listen how he is going to 'take all our business away'. I can't decide whether he is showing so much testosterone and determination I should offer him a job, or whether he should be sectioned for believing he can do something no-one before him has ever been able to do! Either way, this chap obviously hasn't learned anything from the previous casualties that felt compelled to poke us with a stick, and I'm looking forward to a fresh challenge! I often wonder if these companies would be more succesful if they concentrated on their own business rather than obsessing about us all the time? Anyway, as so many of our customers often profess, if people are slating you it means you are doing something right...
Related Posts
By accepting you will be accessing a service provided by a third-party external to https://www.hofmann-megaplan.co.uk/