Hofmann Megaplan Blog
Welcome to the Hofmann Megaplan blog. Check back regularly for news, product launches and events.
How far are 'they' willing to go? - I bet we go further!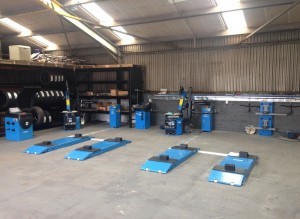 Going the extra mile
We like to think we are dedicated to every installation we carry out. Quite often you'll see posts on this very blog about installations in most remote of places. This one is no exception! With the products checked and PDI at our Huntington base, the products were loaded ready for our engineer to install at the most northerly tip of the British Isles, Shetland. The customer required a complete tyre changing and alignment setup including, lifting equipment, wheel aligner, tyre changers and finally balancers.

The Shetland island is the UK most northerly group of islands and putting that into perspective their nearest neighbour is Orkney, 50 miles (80km) to the south-west. In fact it's only 200 miles (320km) away from Norway. It's a 12 hour ferry ride, something our engineers know all about!

In such remote locations services can be expensive and the customer need to know that their equipment would be well made and stand the test of time, so not to incur any costly call outs.
What was installed?

Scissor lift - TSX3000
At the heart of the installation are the two new TSX3000 scissors lifts, recently added to Hofmann Megaplan range. Boasting a lifting capacity of 3 tonnes and minimum height of just 110mm making it great for installations directly to the floor. Their strength and versatility make them ideal in a situation like this.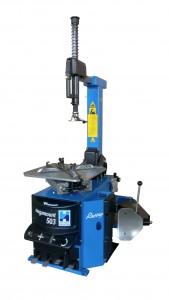 The fully-automatic megamount 503 Racing is simply fantastic value for money; providing the typical build quality customers have come to expect from a 'megamount' model, combined with a versatile specification and highly competitive price tag. A best seller and common sight amongst tyre shops, garages and main dealers across the globe!
Representing great value for money and incredible return on investment, the megaline system 4 is a must for any garage or tyre shop; even those with existing computerised systems would value the megaline as a way of getting measurements quickly for customer checks.
A fairly recent addition to the Hofmann Megaplan range, the megalift 4000-2 lift as a an electro-hydraulic 2 Post lift represents excellent value for money, combining an economic design typical of entry-level lifts, but with the added peace of mind of being a Hofmann Megaplan product with all its associated qualities such as build, reliability, long-term spares availability and reputation.

Finally the megaspin 200-3 was added is just makes perfect sense! Small, and loaded with features normally only associated with 'top end' machines. The megaspin 200 is a motorised wheel balancer utilising low speed technology to eliminate the need for a wheel guard, making it an excellent solution for workshops where space is at a premium.
This particular install was sold by Andrew Page where you can get a range of Hofmann Megaplan products.
Related Posts
By accepting you will be accessing a service provided by a third-party external to https://www.hofmann-megaplan.co.uk/