Hofmann Megaplan Blog
Welcome to the Hofmann Megaplan blog. Check back regularly for news, product launches and events.
It's no Accident - M&E Accident Repair (Leicester)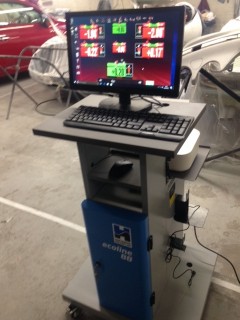 When you'r a busy repair workshop, being able to put a car back on the road as efficiently as possible is vital to keep the flow of customers happy. Aligning the cars is just one of many jobs that needed to be carried out and with a new Ecoline 88 from Hofmann, M&E Accident Repair Leicester have a mobile, flexible system that can be wheeled around and deliver excellent results.
For garages the ecoline 88 has a simple function, to bridge the gap between laser alignment and fully computerised systems with printout.
The eco line 88 is supplied with a comprehensive vehicle database from recognised industry name, Autodata and offers a before and after printout - showing the customer exactly how much of an alteration is needed to bring the vehicle back to optimum standard.

Scope of supply:

Ecoline 88
Supplied with PC, 19" monitor & printer
Comprehensive Vehicle Database by Autodata
Simple to use
Even faster operation
3-point 'GrabClamps'
Cameras Front and Rear
More information here: https://www.hofmann-megaplan.co.uk/products/wheelaligners/ecoline-58.html
Find out more about our Ecoline Wheel Alignment Systems on the main company website or to arrange a demo please contact our team on 01480 89-10-11






About the customer:


Complete customer care, focus, satisfaction, attention to detail. Where providing our customers with total peace of mind is paramount. Vehicle technology has progressed at an alarming rate and your vehicle has to go through quality controlled repair procedures. Accidents do happen and you must ensure you're repaired by "M&E Accident Repair Centre".
Related Posts
By accepting you will be accessing a service provided by a third-party external to https://www.hofmann-megaplan.co.uk/