Hofmann Megaplan Blog
Welcome to the Hofmann Megaplan blog. Check back regularly for news, product launches and events.
Join A Winning Team!! Engineers Required!!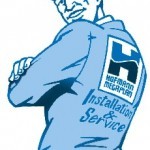 As our business continues to grow, it is imperative that we maintain the level of customer care which has earned us our reputation for being the most responsive team in our industry.
The number of Hofmann Megaplan users is increasing by the day, and in an effort to ensure we never let them down we are looking for two more candidates to join our 'Technical Support' Team.
The role includes every aspect of supporting our product and customer, from carrying out installation and training sessions on our range of equipment, to providing on-site support for service and calibrations.
We work hard at Hofmann Megaplan, but the reward for this is an excellent salary, a fantastic working environment, and the comfort in the knowledge of working for a financially secure and well run business with a brand name that is recognised worldwide.
Experience of working within our industry is not essential although it would of course be beneficial, but training will be provided through an extensive introduction to our company and to the tyre sector we operate in. It is more important that the candidate has an honest, enthusiastic approach to work, and a real desire to help ensure Hofmann Megaplan remains the No1 Tyre Equipment Supplier.
Applicants will need to be located within a 30 mile radius of our HQ in Huntingdon, Cambridgeshire, and should in the first instance contact Mark Berryman on 01480 891011. All applicants can be assured of complete confidentialty.
Related Posts
By accepting you will be accessing a service provided by a third-party external to https://www.hofmann-megaplan.co.uk/