Hofmann Megaplan Blog
Welcome to the Hofmann Megaplan blog. Check back regularly for news, product launches and events.
Mill Tyres - Winners of Brityrex Tyre Changer Competition!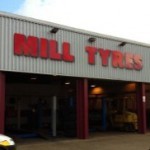 Mill Tyres, of Boston, Lincs, are the proud new owners of the 'megamount Smart' from Brityrex 2010's 'Win a Tyre Changer' competition.
The family owned tyre retailer put their name into the draw along with most other visitors to the exhibition, in the hope that they could get their hands on what is probably the most simple and capable machines on the market.
The megamount Smart is a lever-less tyre changer that can handle rims up to 30" diameter, and is designed specifically for handling tough rim & tyre combinations.
Mill Tyres were delighted to take delivery of their new machine as one of their main reasons for visiting the show was to investigate new fitting technology. Following a comprehensive training session, the comnpany are now one of the best placed in the country to handle run-flat tyres and the like with complete confidence.
Related Posts
By accepting you will be accessing a service provided by a third-party external to https://www.hofmann-megaplan.co.uk/