Hofmann Megaplan Blog
Welcome to the Hofmann Megaplan blog. Check back regularly for news, product launches and events.
New Addition To The Customer Services Team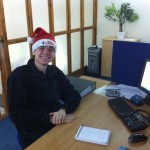 Joe Berryman has joined the Hofmann Megaplan Customer Services team to assist with all aspects of office activity including both sales and service matters.
Joe, 18, has joined straight from school and hopes to build a career within one of the most successful companies in the UK automotive industry. Initially handling 'phone calls and simply assisting everybody in the office, Joe will eventually take on some aditional IT responsibility and plans to forge an important role within the company.
Two more appointments are due to be announced in the next few days as Hofmann Megaplan continue to strenghten all areas of the business as the customer base and volume of sales continues to grow.
Related Posts
By accepting you will be accessing a service provided by a third-party external to https://www.hofmann-megaplan.co.uk/