Hofmann Megaplan Blog
Welcome to the Hofmann Megaplan blog. Check back regularly for news, product launches and events.
New Look Website Now 'Live'!!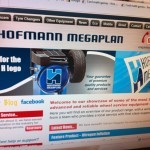 I like these moments, the end result of  a lot of hard work, and also proof to those doubters always ribbing me with a "working from home in inverted commas again are we Boony?" comment whenever they hear the kids shouting in the background!
Well here's the proof that I am not just cooking, browsing the internet or doing the housework (no chance), but I am in fact hard at work in an effort to keep our position as the company that our competitors can only look to follow... I'm pleased to say that
our new look website is up and running
, containing even more useful product information, and profiling those products even better with the introduction of even more HMTV presentations.
I hope you find the website easy to navigate and, more importantly, sufficiently informative. But remember, we have so much more to tell you than we can ever publish in a simple website, so please do call us with any questions you may have or to request further information.
Now I must get back to that lasagne in the oven, I mean working on our new brochure...:-)
Related Posts
By accepting you will be accessing a service provided by a third-party external to https://www.hofmann-megaplan.co.uk/