Hofmann Megaplan Blog
Welcome to the Hofmann Megaplan blog. Check back regularly for news, product launches and events.
New 'megablast' Bead Seating Device!!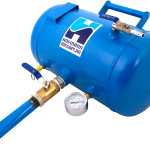 Having re-sold other brands of bead seater over the years, we have finally decided to make our own!
The 'megablast' is a useful tool for helping seat the bead in situations whereby the only alternative is (dangerously high) over-inflation. Whilst all the units on the market are of the same principle, there are varying degrees of quality of components and operation. Since the demise of the original Haweka unit a couple of year ago due to it becoming expensive to produce, we have longed for something that met the quality that the original offered, and we felt the only way to do this was to make it ourselves!
The 'megablast' is subject to a launch offer of just £129 + VAT for a limited period.
Related Posts
By accepting you will be accessing a service provided by a third-party external to https://www.hofmann-megaplan.co.uk/