Hofmann Megaplan Blog
Welcome to the Hofmann Megaplan blog. Check back regularly for news, product launches and events.
NEW 'MEGASPIN' RANGE - OUT SOON!!!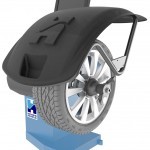 Hofmann Megaplan wheel balancers have established themselves as the most reliable, simple and accurate machines on the market, with the familiar 'megaspin' label becoming a standard feature amongst tyre shops and garages across the UK.
The bar is set to be raised yet again with the introduction of the all-new 'megaspin' range, which saw their official launch at Frankfurt's Automechanika exhibition last week, and which will enjoy their first official UK showing at next month's Brityrex show in Manchester.
Whilst the new megaspin 420 and 820 models will undoubtedly maintain enhance their reputation even further in terms of their ease of use, unrivalled reliability, and general 'touch and feel' of quality, the stand-out advancement is the new 'NO CHECKSPIN' feature.
'NO CHECKSPIN' revolutionises balancing as we have become accustomed, by totally eliminating the need to carry out the additional 'checkspin' traditionally made after the weights have been applied, thus making the whole floor-to-floor process even faster.
To find out more about the new 'megaspin' range and this incredible new technology, come and see us at Brityrex in Manchester on 6th, 7th 0r 8th October or call us on 01480 8-9-10-11...
Related Posts
By accepting you will be accessing a service provided by a third-party external to https://www.hofmann-megaplan.co.uk/