Hofmann Megaplan Blog
Welcome to the Hofmann Megaplan blog. Check back regularly for news, product launches and events.
NEW!! megawash Magic Automatic Wheel Washer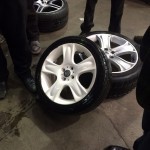 We have just installed the very first 'Magic' wheel washer, and the results confirm that this is the simplest, most effective, and best value wheel washer ever!!
The megawash 'Magic' was installed at The Tyre Shop in Chingford, and demonstrated how you can set yourself apart from the competition by offering something different.
The 'Magic' uses regular mains water and an ecological detergent to clean the wheel in just 60 seconds (see Before and After pictures attached). Unlike systems before it, the Magic doesn't rely on beads or steam, but simply rinses the wheel through high pressure jets before adding the environmentally friendly detergent. The dirty water is filtered and simply drained away into the mains. Every few months the operator simply removes the filter containers and disposes of the contents.
In a day and age where customers are demanding more in the way of customer service and shop owners are looking at alternative ways to attract business, the wheel washer is a great idea either as a complimentary or chargeable service.
Manufactured in Italy, the unit is expected to be well received amongst those forward thinking tyre shops and garages who embrace new concepts and technology.
Related Posts
By accepting you will be accessing a service provided by a third-party external to https://www.hofmann-megaplan.co.uk/