Hofmann Megaplan Blog
Welcome to the Hofmann Megaplan blog. Check back regularly for news, product launches and events.
New PDI Facility up and running!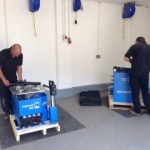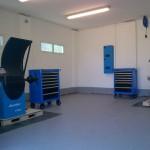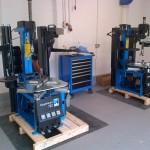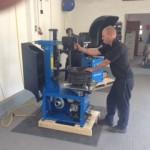 At Hofmann Megaplan have always been renowned for our unique facility for assembling, testing and certifying all equipment before it goes to the customer.
This invaluable department, consisting of 3 full time, factory trained engineers, ensure that machines are built to customer specification, tested thoroughly and that the final product is delivered free from any silly 'out the box' problems that most of our competitors suffer with.
In light of its importance, we have recently invested in the workshop, which is located within our Cambridgeshire warehouse facility, to include better working conditions, more efficient procedures, 3 phase supplies and general compliance to H&S legislation.
In fact, we are so proud of this set-up that very soon we will be introducing a webcam facility so that customers can view their machines being assembled and rigorously tested rather than just take our word for it!
It might not be the most interesting thing you'll see that day, but it does at least support our claim to be the most thorough operation in our marketplace!
Related Posts
By accepting you will be accessing a service provided by a third-party external to https://www.hofmann-megaplan.co.uk/