Hofmann Megaplan Blog
Welcome to the Hofmann Megaplan blog. Check back regularly for news, product launches and events.
New 'Service Point' Open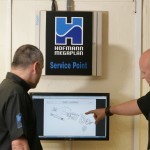 Anybody wishing to identify spare parts on the whole range of Hofmann Megaplan machines, both current and historical, can now do so easily and speedily with our new 'Service Point' facility.
Both in-house and sub-contract engineers, customers and distributors can now access all machine details, from exploded diagrams through to marketing support material, power requirements, useful tips and recommendations etc by visiting the Service Point in our main office. Users of this internal system will even be given the location of the part, by bin location number, in our stores room enabling a fast and simple transaction.
Clearly this facility only works for those customers using a 'walk-in' service, so a 'virtual' Service Point is currently being designed to operate from our website, with users being given free access to the majority of information, and more detailed information made accessible by the means of a temporary password system. We have started the ball rolling by uploading exploded diagrams to help customers identify more easily any parts they require, but this is simply the first step and represents only about 5% of the potential data that will ultimately be available.
Related Posts
By accepting you will be accessing a service provided by a third-party external to https://www.hofmann-megaplan.co.uk/