Hofmann Megaplan Blog
Welcome to the Hofmann Megaplan blog. Check back regularly for news, product launches and events.
New Warehouse Erected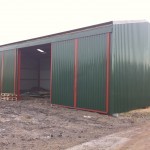 Our new warehouse has finally been erected after weeks of delays due to bad weather.
This new structure, which will increase our warehouse capacity by a further 15%, has been built on the only remaining exposed 'wing' of our plot, meaning we will eventually have a fully concreted 'yard' serving all 4 warehouses and PDI centre, ideally arranged for deliveries, collections and access for our engineers.
All we are waiting for now is a bit of dry weather to enable us to concrete the new warehouse and area directly in front of it, and we will be able to hold ven more stock and serve our customers even faster!
Related Posts
By accepting you will be accessing a service provided by a third-party external to https://www.hofmann-megaplan.co.uk/