Hofmann Megaplan Blog
Welcome to the Hofmann Megaplan blog. Check back regularly for news, product launches and events.
On The Move...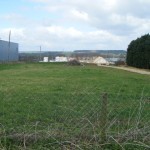 All being well, this well situated plot of land at Thrapston, Northants, could be the new home for Hofmann Megaplan. We've been looking for land to build more suitable offices and demonstration facilities for some time, and it now looks like we may have found our ideal spot. The pics show how the plot overlooks fantastic views to the lakes, as well as the style of building we can expect (the building work shows Phase 1 which has already been sold). I'm due to meet the agent after Easter and, as we already know that there are no planning issues, it will all hinge on whether we can meet our needs in terms of parking and build size...We'll keep you posted...
Related Posts
By accepting you will be accessing a service provided by a third-party external to https://www.hofmann-megaplan.co.uk/