Hofmann Megaplan Blog
Welcome to the Hofmann Megaplan blog. Check back regularly for news, product launches and events.
Problems Getting Jobs Done? Snow Chance!!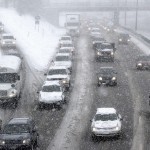 The bad weather might be holding some up from going about their business, but not Hofmann Megaplan.
We are trialling winter tyres this year and we reckon that this change, coupled with the dogged determination of our engineers to get the job done, is ensuring we keep our promises to customers despite the weather. We have covered the depth and breadth of the country today without so much as a hiccup; in fact the ever-reliable Lee has made it to Scotland, via a job in Cumbria, having left at 5am this morning, and will install 3 of our megamount 701XL's up as far as Aberdeen before the week is out. Whilst last week wasn't as bad weather-wise, we were still under the cosh as an order received on Wednesday afternoon dictated it was only to be confirmed if we commited to getting around 15 new machines installed by Friday!! And its not like we were sitting around waiting for things to do! But we brought back 2 lads from holiday, pulled Stuart away from his final touches to our new demonstration area, worked literally around the clock to get machines built and pdi'd, and got the job done. I don't reckon there is a garage equipment company in the world, let alone the UK, that could have pulled that off in the way we did.
Another big 'well done ' to the Installation & Training Team...
Related Posts
By accepting you will be accessing a service provided by a third-party external to https://www.hofmann-megaplan.co.uk/