Hofmann Megaplan Blog
Welcome to the Hofmann Megaplan blog. Check back regularly for news, product launches and events.
*** Special Offers ***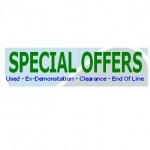 Please take a look at our special offers, there are some great bargains to be had.
This list is just a snapshot of some of the stock we have, so please give us a call on 01480 891011 to check latest availability and discuss your requirements. 
Special Offers - Summer 2010
Related Posts
By accepting you will be accessing a service provided by a third-party external to https://www.hofmann-megaplan.co.uk/