Hofmann Megaplan Blog
Welcome to the Hofmann Megaplan blog. Check back regularly for news, product launches and events.
St Ives Performance Tyres Equip With The Best!!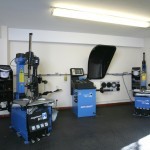 They say times are hard, but at Hofmann Megaplan we are pleased to say business is still booming - and judging by the number of new sites we have equipped lately for existing customers, we are not the only ones.
One of those sites is
St Ives Performance Tyres
in Cambridgeshire, the second store to be opened by the owners of
Huntingdon Performance Tyres
.
Mark and Shaun at HPT have never been shy to buy what they consider to be the best equipment, and St Ives demonstrates that with the inclusion of the flagship megamount 801XLS tyre changer, megamount 502 tyre changer, megaspin 400-2 balancer, 2 megalift GTE3200 2 post lifts, a megalift 443 4 Post lift, and megalign system 4 wheel alignment system. At the same time they also re-furbished Huntingdon with the same list of high performance equipment.
Other new openings kitted out by Hofmann Megaplan include Corby Tyres and Welwyn Tyre & MoT, both expansions by existing customers who know the value in dealing with a company who make life easy, and whose equipment policy is to simply to be the best.
More pictures will be uploaded soon showing examples of recent installations...
Related Posts
By accepting you will be accessing a service provided by a third-party external to https://www.hofmann-megaplan.co.uk/