Hofmann Megaplan Blog
Welcome to the Hofmann Megaplan blog. Check back regularly for news, product launches and events.
Successful Alignment Install - Edgefield coachworks (Edinburgh)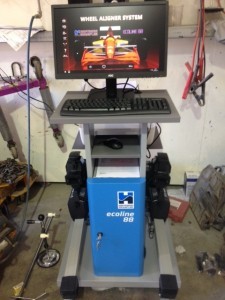 Edgefield Coachworks is an award winning body repair centre in Edinburgh. They wanted to add a flexible, precise alignment system to their busy business and Hofmann Megaplan duly obliged with an Ecoline 88 4 wheel alignment system.

CCD or 4 wheel alignment systems, are a popular mobile system consisting of sensors mounted to each wheel. CCD aligner communicates with a PC via Bluetooth and compares the results to a database. The results are easy to see and once the alignment is complete a print off the data can be produced for you customers benefit. They require little specialist knowledge from the workshop as the interaction with the PC talks the technician through the process.

Pros
More accurate than lasers
Less alignment knowledge is required for the technician than laser
Mobile so you can switch bays with a single aligner
Need to know:
Results can take as long as 10 minutes
An update to the data is required when new cars come onto the market
Busy centres can monopolise the aligners time

In short if you're a small / medium sized set up, with multiple technicians with varying abilities, CCD has its benefits. The system automatically instructs the operator through the adjustments and gives feedback to the customer to build your relationship. They are mobile too, so allows flexible working throughout the workshop.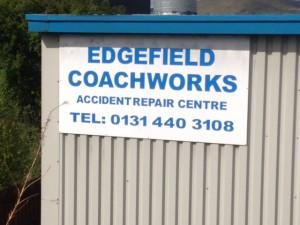 Edgefield Coachworks is an award winning body repair centre that has been operating in Edinburgh since May 2008 but coachbuilding has been at the centre of the Neish family for 3 generations. Their priority has always been on the quality of the work, which is why they're one of Edinburgh's leading Insurance Approved Accident Repair Centres. With a large facility to repair any make and model of car up to 7.5 tonnes including tyres, exhausts, brakes, suspension, servicing clutches, air con and vehicle geometric checks. They often do specialist work on a vast amount of supercars, primarily the TVR community.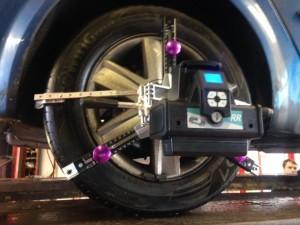 If you're in need of you wheels aligning, in Edinburugh, they would be more than happy to see you.
Unit 1 Eldin Industrial Estate, Edgefield Road, Loanhead, Edinburgh, EH20 9QX
T: 0131 440 3108
E: This email address is being protected from spambots. You need JavaScript enabled to view it.
http://www.edgefieldcoachworks.co.uk
To find out more about how Hofmann Megaplan can help your domestic and commercial vehicle operation, visit the main Hofmann company website or to arrange a demo please contact our team on 01480 89-10-11
Related Posts
{ "@context": "http://schema.org", "mainEntityOfPage": "https://www.hofmann-megaplan.co.uk/blog/successful-alignment-install-edgefield-coachworks-edinburgh", "@type": ["BlogPosting", "Organization"], "name": "Hofmann Megaplan", "headline": "Successful Alignment Install - Edgefield coachworks (Edinburgh)", "image": "https://www.hofmann-megaplan.co.uk/images/easyblog_images/786/b2ap3_small_image2-4-225x30_20190117-194155_1.jpg", "editor": "Guest", "genre": "Wheel and Tyre Fitting Equipment", "wordcount": "471", "publisher": { "@type": "Organization", "name": "Hofmann Megaplan", "logo": {"@type":"ImageObject","url":"https:\/\/www.hofmann-megaplan.co.uk\/media\/com_easyblog\/images\/schema\/logo.png","width":60,"height":60} }, "datePublished": "2019-01-17", "dateCreated": "2017-07-20", "dateModified": "2019-03-01", "description": "Hofmann Megaplan suppliers of premium tyre changers, wheel balancers, wheel aligners, lifts and garage equipment", "articleBody": "<p><a href="http://www.edgefieldcoachworks.co.uk/">Edgefield Coachworks</a>&nbsp;is an award winning body repair centre in Edinburgh. &nbsp;They wanted to add a flexible, precise alignment system to their busy business and Hofmann Megaplan duly obliged with an <a href="products/wheelaligners/ecoline-58.html">Ecoline 88 </a>4 wheel alignment system.<br /> <br /> CCD or 4 wheel alignment systems, are a popular mobile system consisting of sensors mounted to each wheel. CCD aligner communicates with a PC via Bluetooth and compares the results to a database. The results are easy to see and once the alignment is complete a print off the data can be produced for you customers benefit. They require little specialist knowledge from the workshop as the interaction with the PC talks the technician through the process.<br /> <br /> Pros<a href="images/hmblog_images/2017/05/image2-4.jpg" rel="attachment wp-att-2929"></a></p> <ul> <li>More accurate than lasers</li> <li>Less alignment knowledge is required for the technician than laser</li> <li>Mobile so you can switch bays with a single aligner</li> </ul> <p>Need to know:</p> <ul> <li>Results can take as long as 10 minutes</li> <li>An update to the data is required when new cars come onto the market</li> <li>Busy centres can monopolise the aligners time</li> </ul> <p>&nbsp;<br /> In short if you're a small / medium sized set up, with multiple technicians with varying abilities, CCD has its benefits. The system automatically instructs the operator through the adjustments and gives feedback to the customer to build your relationship. They are mobile too, so allows flexible working throughout the workshop.</p> <p class="p0"><span class="c0"><a href="images/hmblog_images/2017/05/image1-4.jpg" rel="attachment wp-att-2928"><img class="alignleft size-medium wp-image-2928" src="images/hmblog_images/2017/05/image1-4-300x225.jpg" alt="image1-4" width="300" height="225" /></a></span></p> <p class="p0"><span class="c0"><a href="http://www.edgefieldcoachworks.co.uk/">Edgefield Coachworks</a> is an award winning body repair centre that has been operating in Edinburgh since May 2008 but coachbuilding has been at the centre of the Neish family for 3 generations. Their priority has always been on the quality of the work, which is why they're&nbsp;one of Edinburgh's leading Insurance Approved Accident Repair Centres. With a large facility&nbsp;to repair any make and model of car up to 7.5 tonnes including tyres, exhausts, brakes, suspension, servicing clutches, air con and vehicle geometric checks. They</span><span class="c0"> often do specialist work on a vast amount of supercars, primarily the TVR community.</span></p> <p class="p0"><span class="c0">&nbsp;<a href="images/hmblog_images/2017/05/image3-3.jpg" rel="attachment wp-att-2930"><img class="size-medium wp-image-2930 alignright" src="images/hmblog_images/2017/05/image3-3-300x225.jpg" alt="image3-3" width="300" height="225" /></a><span class="c0"></span></span></p> <p class="p0">If you're in need of you wheels aligning, in Edinburugh, they would be more than happy to see you.</p> <p class="p1"><span class="c0">Unit 1 Eldin Industrial Estate,&nbsp;</span><span class="c0">Edgefield Road,&nbsp;</span><span class="c0">Loanhead, Edinburgh,&nbsp;</span><span class="c0">EH20 9QX</span></p> <p class="p1"><span class="c1">T: 0131 440 3108</span></p> <p class="p2"><span class="c0">E:&nbsp;</span><span class="c1">
This email address is being protected from spambots. You need JavaScript enabled to view it.
</span></p> <p><a href="http://www.edgefieldcoachworks.co.uk">http://www.edgefieldcoachworks.co.uk</a><br /> To find out more about how Hofmann Megaplan can help your domestic and commercial vehicle operation, visit&nbsp;the&nbsp;<a title="visit the Hofmann Megaplan website to see more information about our full range of Tyre Changing Equipment" href="products/tyrechangerspremium.html">main Hofmann company website</a>&nbsp;or to arrange a demo please contact our team on&nbsp;<strong>01480 89-10-11</strong></p>", "author": { "@type": "Person", "name": "Guest", "image": "https://www.hofmann-megaplan.co.uk/components/com_easyblog/assets/images/default_blogger.png" } }
By accepting you will be accessing a service provided by a third-party external to https://www.hofmann-megaplan.co.uk/