Hofmann Megaplan Blog
Welcome to the Hofmann Megaplan blog. Check back regularly for news, product launches and events.
With the ever-increasing amount of new tyre manufacturers now available on the market, I thought it worth taking some time to explore the issues I've seen many fitters having when it comes to quoting and replacing wheels recently.
As an alignment engineer, you often find yourself on installs with a garage owner nearby on the phone to a customer. This probably rings true for many tyre fitters reading this now. The story on the other end of the phone goes something along the lines of "How much will that be then? Oh wow! What about the price of a budget tyre?". It is the term BUDGET TYRE that causes the hearts of many a fitter to sink, but not for the same reason a customer might think.
A budget tyre approach simply doesn't suit most vehicles. As a fitter, you will have taken the time to ask what car the customer drives, how many miles they cover and maybe even the type of driving they do most commonly.
All this should determine the right type of tyre for the vehicle, at a price point which will be most efficient in the long run. Whichever option is fitted, as a business you are likely to be making roughly the same for fitting. Customers forget it is the quality of tyre they are compromising on, not the price of your time.
The same garage owner I mentioned earlier said to me after that call "this customer does 40,000 miles a year and wants budgets" rolling his eyes in disbelief. Some customers will take this a step further!
I've seen many people buying tyres on auction websites, thinking they're getting a great deal only to find out that the tyres have the wrong speed or load rating, risking the safety of themselves and other road users.
The Moral of this Tyre Fitting Story
As tyre fitters, you are the ones supplying the tyre, you have the tyre fitting equipment and so as an industry, we should be trying to educate and not frustrate!
There are tyres now being manufactured just for summer and winter use on domestic vehicles. Yet many people keep the same type of budget tyre on all year round and wonder why they need replacing 4x as much, forgetting the impact these cheap tyres will have on how the car reacts during the summer/winter conditions.

What's more, car manufacturers now often work with tyre manufacturers in a bid to resolve common wear issues. For example, the tyre manufacturers may use harder compounds in certain parts of the tyre that suffer from wear more. Fitting a budget would simply allow these common issues to continue and cost the customer more in the long run.
Many buy second hand and forget there is still a cost to pay for the fitting, supply of valve, wheel balancing and correct tyre disposal. Access to your tyre fitting equipment and advice on the correct tyre is all a part of the package you need to sell.
So next time a car arrives and you're getting ready to fire up your tyre changing machine, remember, you probably make a similar margin no matter what tyre you fit, but the customer will spend a lot more and potentially not trust you if their tyres are bald a month later. Take the time, have the conversation and make sure you're using your tyre machine to fit the right tyres.
My Dad always used to say to you get what you pay for! This statement is as true as ever with tyres. It's our job to educate road users and help keep everyone safe!
Author | Warren Carr | Wheel Alignment Specialist
My name is Warren Carr and I'm part of the team of alignment engineers at Hofmann Megaplan. I will be using this blog to regularly highlight some practical hints and tips which will help you, our garage professionals, achieve great results with your equipment, no matter the make of alignment machine.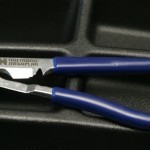 Next time you are looking for a new wheel balancer, dig a little deeper than just the price and brochure.
Most manufacturers today, even if they claim their machines are made in Europe, will be using low cost, inferior quality hardware made in China. The threaded shaft, locking handle and cones can represent a large chunk of the price of a balancer, so there is a significant saving to be had by reducing the quality.
At Hofmann Megaplan, we continue to to use hardware from leading German manufacturer Haweka as OEM fitment to our machines, thus guaranteeing the longevity and repeatability anyone who has used Haweka will have become accustomed to. Approved by all vehicle manufacturers and tyre manufacturers, the Haweka product is precision engineered in Germany by people who know the importance of mounting the rim correctly when wheel balancing.
This philosiphy even stretches to something as basic as balance weight pliers; we've noticed recently how many suppliers are providing pliers with their machines that fall apart within a matter of weeks, sometimes days. Again, at Hofmann Megaplan we still supply our own pliers, of the highest quality, that reflect the quality of components used throughought our range.
To put this in perspective, we reckon we could save at least £200 by cutting corners on the basic items mentioned here, and that would make our balancers look substantially cheaper. But there is no doubt that the long term effect would be damaging to our reputation, and we are simply not prepared to let that happen....