Hofmann Megaplan Blog
Welcome to the Hofmann Megaplan blog. Check back regularly for news, product launches and events.
The First megamount 561 Takes To The Road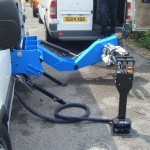 Pro-Tyre of Westbury, Wilstshire, took delivery of the very first megamount 561 mobile CV Tyre Changer today. The installation was the first in the UK, and was also a novelty for the factory, being the first right had drive installation to be made.
Our Italian colleague made the trip over to train all those involved, and inspect the first class installation (it fitted like a glove, a tight fitting glove, but a glove nevertheless!).
The megamount 561 will allow Pro-Tyre to carry out roadside fitting without the need for lifting and levering, and is sure to become a more common sight in the future.
Related Posts
By accepting you will be accessing a service provided by a third-party external to https://www.hofmann-megaplan.co.uk/