Hofmann Megaplan Blog
Welcome to the Hofmann Megaplan blog. Check back regularly for news, product launches and events.
THE "HAND SPIN" IS BACK!!!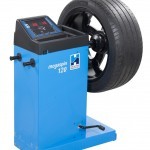 Anyone who remembers the old Balco hand spin balancers back in the '90's will know what great machines they were...
Simple, accurate, compact, economical, reliable...they literally ticked all the boxes.
However, after the company was purchased and original factory closed, the brand was quickly discontinued, and the ubiquitous 'hand spin' was no more.
Well the all-new megaspin 120 re-introduces the concept, using 21st century technology to take the humble hand spin balancer to a new level.
The megaspin 120 represents the Worlds first 3D (fully automatic) hand spin balancer. Simply load the wheel, simply offer the inner measuring arm up against the rim and spin the wheel! All data is taken automatically, and results accurate to within 1gm are retrieved in as little as 4.5 seconds.
Working from either a 12v battery or 240 mains supply, the 120 is ideal for both mobile operations or conventional tyre shops. And don't be put off by its size; the megaspin 120 can handle the same specification of rim as even our top model - that's 75kg in weight or 30" rim diameter!!
You can find out more by visiting our website
https://www.hofmann-megaplan.co.uk/products/wheelbalancerspremium/megaspin120.html
or give us a call on 01480 891011 and ask for a free, on-site no obligation demonstration.
Related Posts
By accepting you will be accessing a service provided by a third-party external to https://www.hofmann-megaplan.co.uk/