Hofmann Megaplan Blog
Welcome to the Hofmann Megaplan blog. Check back regularly for news, product launches and events.
The Knights Group (Stafford)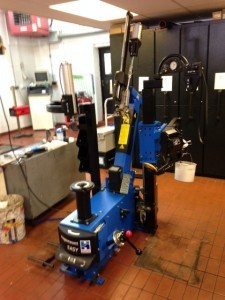 The Knights Group, BMW and Mini replace their old tyre changer for one of our latest leverless machines.
The megamount EASY,
This machine represents an alternative style of tyre changer, where manual effort is reduced to a minimum, and the emphasis is on larger rims fitted with low profile tyres.
An integral wheel lifter makes light work of the heaviest assemblies, and the Quick-Lock centre post clamping ensures there is no contact with the outer edge of the rim. The 'lever-less' Evolution system means that the tyre is removed at the flick of a switch rather than strenuous leverage with the traditional tyre lever. Unlike many other 'Next Generation' tyre changers on the market, the EASYwas designed with one major focus; simplicity. In every element of the tyre fitting and removal process, the directive has been to ensure that operation remains simple, minimising the number of controls and functions.
All in all, we expect a machine like the EASY to become a standard fixture in the modern tyre shop.  
For more information on the Hofmann Megaplan range of Tyre Changing Equipment visit our main website 
hofmann-megaplan.co.uk
 or call our friendly team on
01480 891011
Related Posts
By accepting you will be accessing a service provided by a third-party external to https://www.hofmann-megaplan.co.uk/