Hofmann Megaplan Blog
Welcome to the Hofmann Megaplan blog. Check back regularly for news, product launches and events.
Turriff Tyres (Turriff, Aberdeen)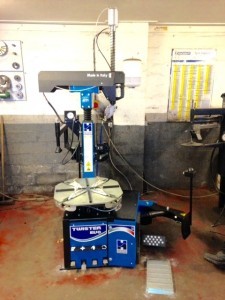 Turriff Tyres upgrade from their megamount 703XL to our brand new model of tyre changer...
The Twister Evo...
The all-new 'Twister' is exactly what the tyre trade asked for!
We asked the market what they wanted from a tyre changer, and the response we got was really nothing like the products that so many manufacturers are presenting. Strength, reliability and ease of use were rated way above the need for TV screens or joystick controls, and the issue of bead breaking seemed to be the biggest factor for anybody fitting and removing tyres.
So we took a design which the industry loved (an automatic column which literally 'twists' to the side rather than tilting back - a classic design used on some very famous models of the past, and undoubtedly the strongest design), and we added the new technology the industry really wanted. The pick of the features has to be the revolutionary electric bead breaker. Twice as powerful as traditional air-operated versions, and unquestionably far more reliable, our customers tell us it is the best bead breaker ever designed.
A genuine step-forward in tyre fitting technology and set to be come a 'fitters favourite'.
Related Posts
By accepting you will be accessing a service provided by a third-party external to https://www.hofmann-megaplan.co.uk/