Atlas™ Wheel Alignment
Atlas™ Equipment is a well-known brand in the US, where it has been a firm favourite for those looking for a lower cost but reputable product since 1982.
Hofmann Megaplan became a sister-company of this brand back in 2016 and since April 2019 has been the exclusive distributor for Atlas Equipment in the United Kingdom.
Why Atlas™ equipment?
Designed for lower volume users, this range sits perfectly within the Hofmann Megaplan line-up. It enables customers to purchase a product which, whilst competitively priced, still provides the peace of mind that comes from dealing with a company with such a reputable tradition and infrastructure. Customers investing in Atlas Equipment will be interested to know that we offer a unique 'Part-Ex/Upgrade programme'. This means that if you choose Atlas now, but find your volumes increasing and decide you want to upgrade to Hofmann Megaplan, we offer an incredible % guaranteed Part-Ex value.
Call 01480 8-9-10-11 for details.
Atlas Wheel Alignment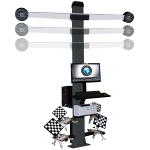 We believe that the Atlas AWA-3DT is the best value 3D aligner on the market today!