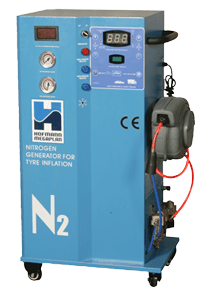 Nitrogen Inflation
There is no doubt about it, Nitrogen inflation is becoming more common as customers demand the service and anybody dealing in tyres will need to consider meeting the demand. In addition, certain new vehicles are coming out of the factory with nitrogen in the tyres as standard, setting the tone for nitrogen filling to become the 'norm' in the future,
NG50
The NG50 is a semi-automatic unit, which will purge the tyre of residual 'air', and then provide re-inflation with nitrogen. The inflation requires the operator to control the inflator, using a dial pressure guide as a reference, just like you would with a standard air-gun.
NG90
The fully-automatic NG90 provides even faster, simpler operation. Simply connect the hose up to the valve and set the required pressure, and then walk away and get on with another job. The NG90 will automatically purge the tyre and the switch to refill with nitrogen to the pressure selected.
Contact Us
Why use nitrogen?
There are 2 aspects here; the benefit of nitrogen to the consumer, and the benefit of nitrogen to the garage or tyre shop owner catering for the consumer. As we are an equipment supplier to the trade, we are going to assume that the person reading this is a business considering offering Nitrogen as a service, and our explanation is therefore tailored accordingly.

However, the two go hand in hand and we will also, as part of this explanation, reveal the benefits to the consumer. The beauty of this increasingly popular service to vehicle drivers is that it really is a win/win situation for everybody!