A national service from Hofmann Megaplan

We have a national reach and can offer a wide range of services, including:

• Supply and installation of complete MOT/ATL bays
• Supply and installation of individual items of equipment
• Complete 'hand-holding' service and project management
• Ongoing calibrations, maintenance contracts & aftersales support
• Liaising with customers' contractors or use of our own contractors under our management
Superior service for premium equipment
There is no doubt about it, our aftersales performance is one of the biggest sales arguments for buying Hofmann Megaplan. Our response times, ability to first-time fix and our overall customer service have become every bit as famous as the product itself.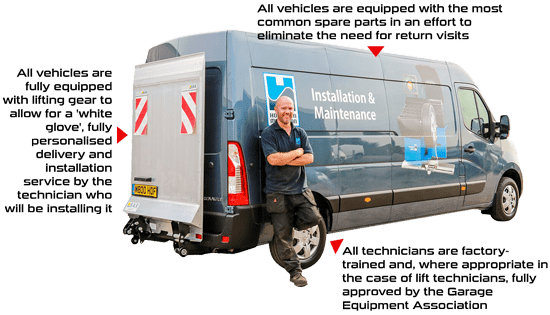 When purchasing equipment, the capability of the provider post-sale is all too often overlooked. It should be a vital ingredient in the decision making as the service you receive will be a constant reminder of whether you made the right decision long after the original price is forgotten. We have one clear indication of how well we do on service - our customers. We receive high praise for the performance of our technicians, and the level of repeat customers we have confirms what we say - that we have the best product and service in the business.
Explore our premium equipment solutions...
Wheel Alignment
Tyre Changing
Wheel Balancing
Vehicle Lifting