Hofmann Megaplan Blog
Welcome to the Hofmann Megaplan blog. Check back regularly for news, product launches and events.
A 5 star approach to making alignment work for your business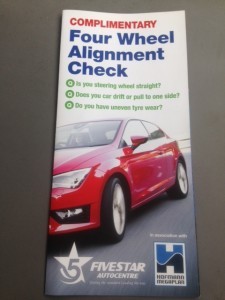 Wheel alignment is not overly complicated. In most instances modern alignment equipment can 'prompt' a technician through the process, to achieve swift and precise readings.
But how do you make it work and develop into a consistent revenue stream for your workshop?
Well, it could be down to how you communicate and market it to your customers.
[caption id="" align="alignleft" width="225"]
Working Proof
Literature placed in the waiting room talked the customer through all the available options
A excellent example of this is
FIVESTAR AUTOCENTER - Huddersfield.
 They realised very early on that they needed to take the mystery out of alignment and start a conversation with their customers about the benefits to a perfectly aligned vehicle, that ultimately could save them hundreds of pounds in the long term.
To do this they offered a
FREE
complimentary alignment for a promotional period, on each vehicle that came through their doors. This enabled 
FIVESTAR 
to assess and diagnose any severe cases of misalignment and discuss the options available to the owner.
FIVESTAR decided they wanted to at the forefront of alignment technology by purchasing a
Hofmann Megaplan Ssence 600 3D aligner
. The  Ssence 600 system represents the very latest 3D wheel alignment technology. Utilising the 'reflective target' type measuring head and camera system, the Ssence is fast, simple, and ideal for those customers looking to get swift and accurate results. The software has been designed to make life as easy for the operator as possible, minimising unnecessary procedures commonly found on other, similar systems.
Talking them through
Every customer was handed a print out of their vehicle's current alignment values and talked through the options available, making sure they had all the information on their vehicle to make an informed decision. If they decided work was necessary, 
FIVESTAR 
 happily carried out the work and provided proof of the work carried out.
... needless to say this was successful. With their equipment
paid off in less than 12 months
and influx of new and existing alignment customers.
Great service FIVESTAR!
Check them out for yourself ...
[embed]https://youtu.be/j5SbMAU_j9g[/embed]
If you're based in the Huddersfield area and would like to talk about alignment with FIVE STAR call them now on (01484) 54 54 22.
Related Posts
By accepting you will be accessing a service provided by a third-party external to https://www.hofmann-megaplan.co.uk/