ADAS Diagnostics
Advanced Driver Assistance Systems (ADAS) diagnosis and reset is one of the newest and biggest challenges to face the industry in recent times.
We offer two types of ADAS equipment: analogue or digital. As with any product, a standard version is lower cost, and the digital offering an increased specification through technology and price-tag.
In the context of ADAS, the product differentiation is highly prominent, whilst the price gap perhaps not so. The methodology behind the digital system not only eliminates much of the laborious preparation associated with the lower-cost version, but it also offers the potential for a much more convenient and lower cost of ownership in the future. The analogue system is not without its advantages in terms of coverage and capability. Whichever system is right for you largely depends on you as a customer being able to make an informed decision, having been presented with accurate information and explanation on what they do. At Hofmann Megaplan, we have a team of factory-trained experts who are able to advise (and demonstrate if necessary) exactly what to look for.
ADAS Products
ADAS Diagnostics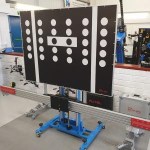 The original ADAS Calibration suitable for all garages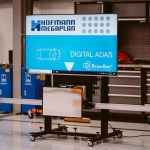 An innovative ADAS solution with training, service + support