Hofmann Megaplan Blog
Welcome to the Hofmann Megaplan blog. Check back regularly for news, product launches and events.
Another New Addition To The Team...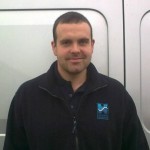 Matt Parnwell has joined Hofmann Megaplan in a Technical Demonstration & Support role, taking the total number of members of this specialist team to seven nationwide.
Matt, 30, has a wealthy tyre fitting, mechanical and engineering background, providing him with the perfect combination of experience to carry out his new role. A thorough training programme including factory visits to Spain and Italy are in place and we expect Matthew to be fully up and running by the end of July.
The Hofmann Megaplan 'Technical Demonstration & Support' team is a unique scenario amongst tyre equipment suppliers, with all members having a predominantly tyre related background. The calibre of these individuals enables them to provide both pre and aftersales advice, as well as training our customers to advanced standards such as run-flat tyre changing and diagnostic balancing. This specialist team eliminates the need for a typical sales team and provides customers with much more  honest and valuable advice when handling new enquiries, as well as enabling the continuity of contact even after a customer has purchased, as it is the same individual responsible for installing, demonstrating and supporting long after the initial purchase.
Related Posts
By accepting you will be accessing a service provided by a third-party external to https://www.hofmann-megaplan.co.uk/