Hofmann Megaplan Blog
Welcome to the Hofmann Megaplan blog. Check back regularly for news, product launches and events.
Cascos Win Quality & Service Award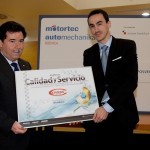 Cascos Lifts were awarded the prestigious 2011 award for Oustanding Quality and Aftersales Support at the recent Motortec Exhibition in Madrid. 
The Motortec exhibition is the Spanish arm of the globally-recognised Automekanicha Exhibition, and this award signifies that there is still room for a family-owned, Europe-based, quality-driven lift manufacturer in a day and age where mass production in China seems to be the trend.
Cascos have been manufacturing lifts in Spain since 1965, and Hofmann Megaplan have been the exclusive UK agents for the last 12 months or so.
Pictured is Sales Director, Carlos Cascos, being presented with the award by a representative of the Automechanika exhibition team.
Related Posts
By accepting you will be accessing a service provided by a third-party external to https://www.hofmann-megaplan.co.uk/