Hofmann Megaplan Blog
Welcome to the Hofmann Megaplan blog. Check back regularly for news, product launches and events.
Chris Lucchesi Joins The Megateam...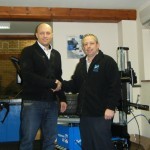 Having good quality people is every bit as important as having a good quality product, and at Hofmann Megaplan we are always striving to ensure we have the personnel worthy of representing the best equipment in the industry. So it is with great pleasure that we can announce the appointment of Chris Lucchesi to the team, looking after the South of England (and, from time to time, Scotland aswell!).
Chris is well known in the industry having worked previously for one of our competitors, where he was openly an admirer of Hofmann Megaplan, our products, and the way we do business, from afar for quite some time. Likewise, we recognised that he was well liked and respected, and very commited in terms of the time and effort he put into his work. So Chris's appointment is a logical partnership for both parties, and we look forward to seeing him establishing himself as a valued member of the team.
With a consistent increase in customer base and annual equipment sales, we recognise that having the right people is incredibly important in maintaining the reputation we have earned, and as such we are always keen to hear from anyone who feels they could contribute to our cause! So even when we are not actively seeking new personnel, we welcome contact from anybody interested in joining the UK's number one tyre equipment provider! Don't be afraid to get in touch...!
Related Posts
By accepting you will be accessing a service provided by a third-party external to https://www.hofmann-megaplan.co.uk/