Hofmann Megaplan Blog
Welcome to the Hofmann Megaplan blog. Check back regularly for news, product launches and events.
Ex-Hollywood Blockbuster Prop Now On Sale!!!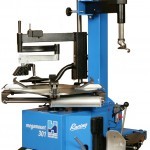 The megamount 301 Racing model recently used as a prop in the latest installment of the Hollywood 'Fast and Furious' films is now up for grabs!
Universal Studios approached us earlier in the year regarding providing equipment for the London-shot workshop scenes for Vin Diesels newest movie. Having carried out research as to what equipment is being used in real life workshops handling customised and prestigious vehicles, they had identified our equipment, including tyre changing and alignment equipment, as the models of preference.
Having now received the machines back in unused condition (and having immediately sold the other items to waiting customers!), we are now putting the 301 Racing up for sale via our eBay shop.
We can't quite decide whether the machine should have depreciated in value as an ex-display model, or appreciated in light of it's fame! So we felt the best way to sell it would be to put it up for auction. If you are interested please visit our eBay shop and try a bid!
Related Posts
By accepting you will be accessing a service provided by a third-party external to https://www.hofmann-megaplan.co.uk/