Hofmann Megaplan Blog
Welcome to the Hofmann Megaplan blog. Check back regularly for news, product launches and events.
First 801XLS's Roll Off The Production Line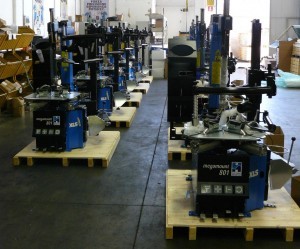 Here are the first 20 builds of the all-new 801XLS Tyre Changer ready to go out. The 801XLS is being hailed as 'the Worlds Strongest Tyre Changer', and is the result of a combined project with our Industrial Division. Whilst everyone else seems hell bent on making things cheaper, we are still concentrating on making things last, and the back order situation on this new machine proves that is just what our customers want. The 28" external clamping is just one class leading feature that puts this baby in a league of its own, and we just know this is going to be a massive hit with our customers. A new leaflet is being produced in time for an official May launch, and the 801 will be available exclusively through Micheldever Tyres. We will continue with our 701XL and Evolution models as the flagships of our range.
Related Posts
By accepting you will be accessing a service provided by a third-party external to https://www.hofmann-megaplan.co.uk/