Hofmann Megaplan – A German Heritage, Engineered In Italy, Built in the UK!
We operate in a competitive market, and as market leader, we're well aware that sometimes the only tactic our competitors have left at their disposal in a desperate attempt to get a sale, is to try and rubbish our product.
The common claim is that 'it all comes from China', and whilst we do have budget models which are indeed manufactured in the Far East (something we don't attempt to disguise and is reflected in the price), we are proud to explain how the heritage, origin and quality control applied to a premium Hofmann Megaplan machine starts several thousand miles closer, in Europe, and finishes right here in the UK.
Firstly, it is important to recognise the legacy of our brand, the history of which can be traced back to 1931 in Darmstadt, Germany.
Whilst the original company no longer exists, having been fragmented over time resulting in several different offshoots falling under different ownership, our association and affinity to that original brand ethos is still very much existing, with our head office for Automotive today being based in Henndorf, Austria, and our sister Industrial Division still present in Worms, Germany.

The brand is owned by CEMB SpA of Italy, one of the largest wheel service equipment manufacturers in the World, and represents their premium offering (think how Audi sits within the VAG group). It is in 2 locations, Correggio and Mandello Del Lario, that Hofmann Megaplan tyre changers and wheel balancers are produced to a demanding specification which, in many instances, is actually tailored for the UK market thanks to our own technical capability, experience within the market, and control over the product we require.

Finally, all machines are assembled and tested in our unique Production Facility in Cambridgeshire, UK. In this facility, totally remodelled and expanded in 2020, 5 engineers can produce up to 20 machines per day under normal circumstances, and have been known to build as many as 35 when we have been fulfilling large orders.
Should any of our customers require further reassurance, we are happy to provide documentation and full traceability of our product. Furthermore, we welcome anyone to visit our Production and PDI Facility, located within our National Distribution Centre, and see first-how the product is received, its clear origin, and the pride taken in completing what we consider to be the best machines on the market.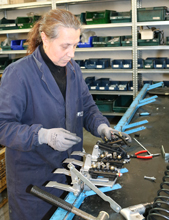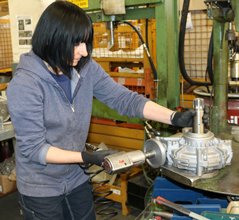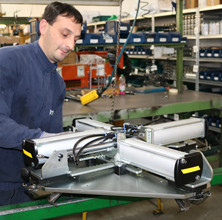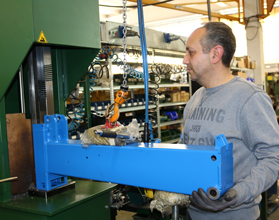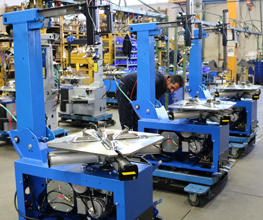 ABOVE: Factory employees Marzia, Miranda, Andrea, Danilo and Marco can be seen assembling key components such as pedal assembly, QuadrClamp turntable, gearbox, and turret, as well as final assembly before testing. Between them, they have served the company a staggering, combined 90 years with the company!
If in any doubt, talk to us!