Hand held TreadReader
Revolutionary Handheld Pre Check Tool
Description
Explore the Hand held TreadReader:
Introducing the Transparent way to sell alignment + tyres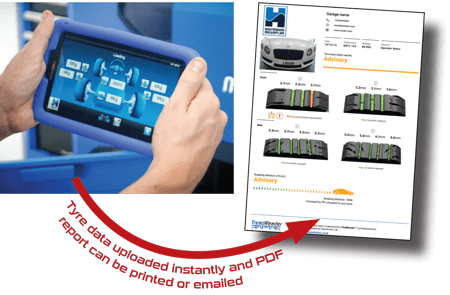 Hofmann Megaplan is pleased to now offer the TreadReader as an optional add-on across its alignment range or as a stand-alone product!
These are the world's first alignment systems with integrated 'pre-check' tool to sell your customers both alignment and tyres!
The new TreadReader technology comprises of a handheld tool which you simply scan over the tyre. It provides an instant 3D rendering of the tyre on the supplied tablet or megaTab handheld display when purchased as part of the Ssence ULTRA alignment package.
This data is also stored in the cloud on the TreadManager sales management software, making light work of the administrative tasks involved in keeping track of incoming tyre and alignment enquiries.
Some of the TreadReader features at a glance
Accurate tread depth gauge giving tyre tread depth readings for tyres of all vehicle types
Can identify problems such as wheel misalignment or worn suspension
Can be used on passenger cars, LCVs, HGV, buses, and trailers
Demonstrates reduced stopping distance to your customer
Will reveal badly worn or unevenly worn tyres
Can identify tyres that need replacing
The TreadReader handheld tyre scanner and tyre tread depth gauge immediately identifies revenue opportunities to the trade from wheel alignment and increased tyre sales or service!

Download the brochure
How the TreadReader works
The TreadReader really is as easy to use as the above demo video suggests. Within a minute you can have all 4 wheels on a vehicle scanned. From here an on-screen or printed report will give a simple Red, Amber, Green verdict along with any diagnosis such as misalignment, under/over inflation, low tread etc..
It will even provide information to relay to your customer on how the condition of their tyre's and alignment is likely to impact their cars handling, for example, increased stopping distance.
It's like buying an aligner, and getting a FREE SALESMAN!!!
This compact and lightweight device is fast becoming the must-have tool in alignment and tyre fitting, essentially allowing anyone to easily convey the need for these services to a customer. The simplicity of the handheld tool makes it quick to use but this does not compromise the quality of the output. Most importantly it eliminates common errors that have now become well known with manual depth gauges.

The quality of reporting from the TreadReader truely is unquestionable by customers.
When can I use the TreadReader?
The device is ready to go when you are. As soon as a customer pulls up, whether they have wet or dirty tyres,passenger vehicle, LCV, HGV, bus, trailer, essentially any tyre! Badly worn wheels are instantly and clearly revealed and symptoms of wheel misalignment or worn suspension are clear with evidence to support. Not only is the need for new tyre or alignment revealed but also the optimum time to take action if the tyres are in passable health. That's instant sales and long-term revenue opportunities both covered!
Whether you're working with tyres in a workshop environment, service centre, inspection lane, commercial vehicle yard or even at the roadside, this device helps you complete your job more efficiently and presents great revenue increasing opportunities.